Smitten by A Horse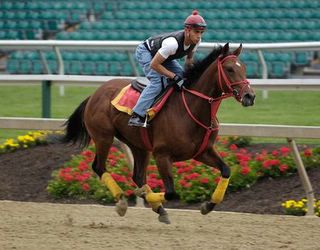 I'm smitten by a horse. It seems crazy, I know. But I love this horse. I'm in love with this horse. The horse is
Afleet Alex
, and the trouble is Alex is a racehorse. I don't even like horse racing.
You're more likely to see me out protesting at animal circuses with
People for the Ethical Treatment of Animals
or the
Animal Protection Institute
than cheering on horses from the side of the track. I love horses and all animals, and I don't like any sport or any kind of entertainment that exploits animals (I also don't like gambling so much).
So why I am cheering for Alex to win on Saturday in the Belmont Stakes? I simply can't help it.
I first heard about Afleet Alex on the
web site of Alex Scott
, my tiny heroine (see previous post). As you may know, Alex founded Alex's Lemonade Stand and has raised over a million dollars for pediatric cancer foundations. Sadly, Alex passed away last year at the age of eight of neuroblastoma, a childhood cancer. But her lemonade stands and her spirit live on, and Afleet Alex is helping to raise money for Alex's Lemonade Stands through merchandise sales and even a percentage of his winnings.
There are so many reasons to love Afleet Alex. Just look at him. He is simply gorgeous. I can't take my eyes off of him. He's in the air in this picture! He only had a ten percent chance of surviving after birth when his mother couldn't nurse him, yet he thrived. He is a survivor, and that inspires me and many other cancer survivors.
He's also a fighter, and a champion. A few weeks ago at the Preakness, the second leg of the Triple Crown (he came in third in the Kentucky Derby), he fell TO HIS KNEES during a collision with another horse, but recovered to win the two-minute race. Two seconds of that video and I was head over heels. As much as I hate to say it, this horse loves to race and to win. And he looks beautiful doing it.
There are now Alex's Lemonade Stands set up at the tracks when Afleet Alex races, and this weekend coinciding with the Belmont Stakes there will be Alex's Lemonade Stands all over the country, check
HERE
for a location near you.
There's a
great article in USA Today about Alex
, and if you read it, read more about Alex on his web site, and check out Alex in the Belmont on Saturday, you may just become smitten, too. With a horse. In the meantime I will be silently cheering Alex on. There's just something special about that horse.