Schoene Blumen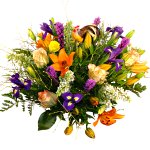 My mother-in-law called today to thank us for the flowers. Unfortunately, we didn't send her any flowers. You can read all about it in "No Sleep Makes Lori a Crabby Girl." This is a little postscript for those of you that got through that lengthy post: Both Fredi's mom and his godmother got these flowers (pictured above).
I'm not sure yet whether we paid for two bouquets. We weren't planning on it. After all, the whole reason we used the Swiss flowers site at all was because we wanted to save some money. Fredi's mom, Ruth, was a bit confused because the flowers came to her in my name at their address.
Ruth doesn't read or speak too much English, so she won't be able to read this, and hopefully Fredi's dad will never translate this part! Um, "this part," meaning the fact that we did not actually mean to send her any flowers. Mom, if you're reading this, we had decided not to go with flowers this year for Mother's Day. Fredi's mom got these accidentally. Doh!
In other news, I went to a gym today that didn't have towel service, which made me realize I'm a spoiled Manhattanite. I took a shower anyway after my workout because we were on the way to a birthday barbecue, and I tend to get sweaty in the gym. I used a blow dryer on my hair and body and stole a roll of paper towels out of a cleaning closet to blot myself dry. Worked so well I think this will be my new method for post-workout washing.
Ciao ciao for now.